**** FALL SPECIALS : All tropical plants - 50% off ****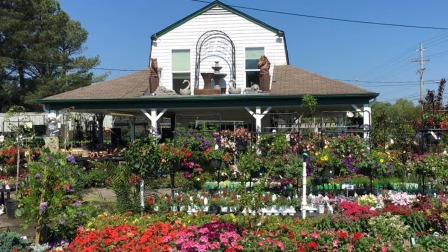 We are very exited about all new plants starting to arrive, so we can always offer nice selection of annuals, perennials, houseplants, shrubs and trees....
Watch out for lots of specials.... Some really good deals are offered on close-out items.... Just ask one of our staff...
If you would like to plant some shrubs and trees we invite you to stop by to have a look at our stock and get great advice from our knowlegable staff.... We hope we can inspire you with great selection of quality plants that we offer...
We can recommend the perfect plant for that spot on your patio/backyard/garden...
We are also ready to help with your plantings with all kind of fertilizers, mulches and soil (many organic choices).
We can also help you with planning to spruce up your yard. We offer "We plan, you plant " or "We plan, we plant" options.... So come in or call to set up an appointment with our landscape designer....
Come see us or call for FREE expert advice on trouble spots in your yard.... Bring with you a sample of an ailing plant and our in-house plant doctors (Anna, John or Dorothy) will diagnose it and recommend appropriate treatment...
There is something new every day so come and check us out!!!